Toilet Door Locks
---
Looking for a toiler door locksmith in London?
We deal with many different situations, but most unpleasant is when someone gets trap inside their toilet or bathroom.
Our Toilet Door Locksmith is always ready to help and fix your toilet door lock immediately right on spot!
There are a few occasions where you get locked inside your toilet. Most of the time it is because of a broken Tubular latch mechanism which is inside of your internal toilet door moved spindle or broken handles. In some cases the internal parts of lock bolt get broken if you have override lock system.
[email protected]
24 Hours Emergency Services

20-30 Minutes or Less Callout Locksmith

Fast, Reliable and Friendly
Reasons for toilet door fail
---
There can be many reasons why your lock get broken such as:
Often use and pressure problems where customers use their handles with power to open or close their toilet door.
Most common reasons for braking your toilet door lock mechanism are:
Broken tubular latch
Moved spindle
Broken Bolt
Door Pressure Problems
Sash Lock fall apart inside of internal toilet door
07770115580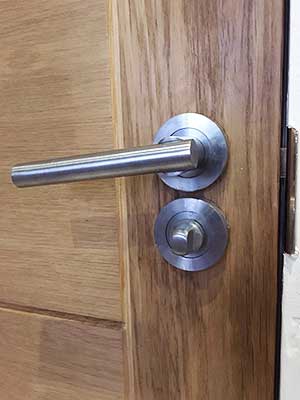 Most Common Toilet Door Locks:
1. Privacy Knob Sets.
2. Sash Locks with Lever Sets
Tubular Latches.
3. Sash locks with override system and Knob from inside to lock and unlock your toilet doors.
4. Some people use bolts and very simple tubular latches.
prices
---
Give us a call now on 07770 115580
Our Locksmiths are always stock up.
We love helping people with all their security-related issues with their toilets and bathrooms.
Call now for a FREE no obligation quote.
Our locksmiths are experts in advising you on which lock to fit on your bathroom door, shower room, wet room, changing room and toilet door. We have a verity of locks with different brands, sizes, colours and security levels to suit every budget.
Lock prices start from as cheap as £23.
Standard Yale Rim locks from £30
3 levers mortice lock from £35
5 levers British standard locks from £75
We also stock British Standard and high security locks like Garisson, Mul-T-lock, Banham, Ingersoll and Chubb.
If you are a home owner please check your insurer requirements. most insurers requires British Standard locks BS3621 to be fitted on all doors and windows.
Our locksmiths have a range of locks, cylinders and mechanisms to tackle every job. They always arrive for any call-out fully stocked.

Choosing a toilet door locksmith
---
Make sure you always keep a receipt or invoice from your locksmith. This will help you follow up with your locksmith for repairs and warranty coverage.
Make sure your locksmith keep up with their original quote. There may be a small difference between the quote you were given and the final price due to different size of lock and different security levels. However, if you were given a quote of £100 for a lock change and final price is £350 there is something dodgy going on.
Choose a locksmith who is responding for email and phone calls.
Call Now! 07770115580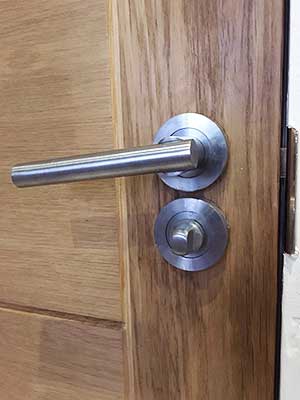 Locksmith for bathroom doors and toilet doors offers 24/7 services