Bathroom door
locksmith
---
Looking for Bathroom door locksmith?
Locked inside your bathroom door?
Need to child proof your bathroom door?
We specialise in Bathroom door lock installation, replacement, repairs and upgrades.
Bathroom door locks are usually installed to keep your door shut and enhance privacy while using it, rather then for security reasons.
When installing or changing a bathroom lock with your Bathroom door locksmith, you can choose from several different lock mechanisms, knob sets and lever sets to suits or match your home design.
If you have any young children always make sure you choose a bathroom lock that have emergency overrider so that incase of an emergency you can easily open the bathroom door with a coin or knife.
Call now 07770115580 for a competitive and informative cheap locksmith quota for your bathroom door.
[email protected]
24 Hours Emergency Services

20-30 Minutes or Less Callout Locksmith

Fast, Reliable and Friendly
Top Five Reasons for booking a bathroom door locksmith
---
Here are the top reasons why customers are booking a bathroom door locksmith:
-Increase privacy
-Install bathroom lock
-Bathroom or toilet door is stuck
-Mechanism could be faulty
-Handle spindle is loose
We have a range of locks to suite toilet doors, bathrooms, shower rooms, wet rooms and changing rooms.
Our Emergency locksmith is available 24 hrs in any London postcode.
07770115580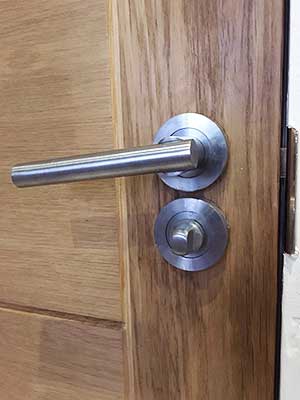 Type of locks:
-Thumb Turner Euro Cylinder in Sashcase mechanism
-Sash lock – dead lock with bolt and handles
-Knob Sets
-Tubular Latches
-Indicator bolts
-Privacy turn- turn and release
-Emergency overrides provide emergency release, usually with a coin or any other flat object.
07770115580
prices
---
Give us a call now on 07770 115580
Our Locksmiths are always stock up.
We love helping people with all their security-related issues with thiere toilets and bathrooms.
Call now for a FREE no obligation quote.
Our locksmiths are experts in advising you on which lock to fit on your bathroom door, shower room, wet room, changing room and toilet door. We have a verity of locks with different brands, sizes, colours and security levels to suit every budget.
Lock prices start from as cheap as £27.
Standard Yale Rim locks from £27.30
3 levers mortice lock from £32.20
5 levers british standard locks from £77.85
ALL OUR PRICES INCLUDES VAT.
We also stock British Standard and high security locks like Garisson, Mul-T-lock, Banham,Ingersoll and Chubb.
If you are a home owner please check your insurer requirements. most insurers requires British Standard locks BS3621 to be fitted on all doors and windows.
Our locksmiths have a range of locks, cylinders and mechanisms to tackle every job. They always arrive for any call-out fully stocked.

Choosing a bathroom door locksmith
---
Choosing a reliable locksmith for bathroom and toilet door around London can save you time, headache and especially money.
When choosing a good bathroom door locksmith make sure to look for:
-Positive online reviews on a few sites like trust pilot and google. Reading other people comments and the amount of reviews will give you a rough idea of how established the locksmith company is.
-Responsiveness: Make sure the locksmith company you are in contact with is responding to your calls and messages. When you want to claim for any faulty lock or parts warranty it is good to know you have someone who will keep their promise up.
-Make sure to keep your locksmith detail and to have a valid receipt or invoice.
Call us to get a fast friendly and affordable service on 07770 11 55 80.

Call Now! 07770115580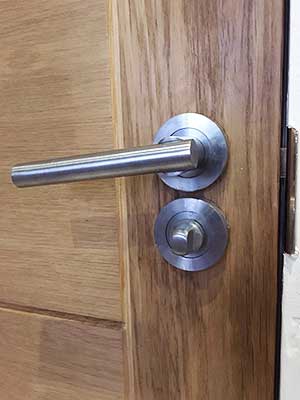 Bathroom door locksmith aoffers 24/7 services