Call Now!
07770 115580!
---
24 hr Garden Door Locksmith in London
---
Looking for a garden door locksmith in London?
Need to replace, fit, change or upgrade your garden door lock?
Had a burglary attempt to your garden door?
We provide Garden Door Locksmith service 24 hours. We have a large stock of garden locks, cylinders and mechanisms to tackle any patio door, back door or garden door lock issue.
The most common Garden Doors in London are:
1. Wooden door with Glass panels
2. Full wooden door
3. uPVC door made of plastic and double glazing
4. Aluminium and Bi-folding door
5. French doors
Our experienced locksmith have a vast knowledge in garden doors, patio doors and balcony doors. We will advise you on the best possible door and lock system to install, fit or change in your garden door according to your budget and security needs.
Call us anytime on 07770 115580, WhatsApp us, text us or fill up a short contact form for a quick no obligation cheap locksmith quote.
---
[email protected]
24 Hours Emergency Services

20-30 Minutes or Less Callout Locksmith

Fast, Reliable and Friendly
Top 10 Reasons for booking a Garden door locksmith
---
Here are the top 10 reasons for booking a garden door locksmith in London:
1. Updating an old garden lock.
2. Fixing misaligned wooden garden door due to changing weather conditions.
3. Burglary repair to garden door, lock or garden door frame.
4. Installing security bolts on uPVC garden door.
5. Lost keys for garden door.
6. Faulty mechanism.
7. Installing high security British Standard lock on garden door.
8. Stiff locking mechanism that needs to be cleaned and oiled.
9. Broken key inside lock and needs to be extracted.
10. Broken or faulty door handle.
07770115580
Garden door metal gate and grill service
---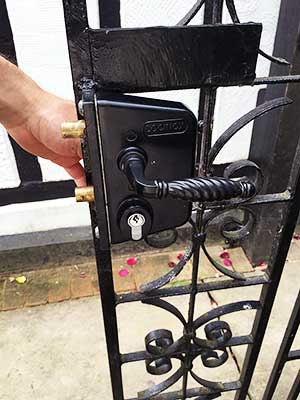 We offer enhanced security measures for back door, garden door, balcony door and patio doors in London and the home counties.
Our garden door locksmith installs security grills or windows, wooden doors, uPVC doors. We have a team that specialised in metal work, security gate and security grills.
Call us to book a consultation, one of our representatives with come on site for measurements and advice.
---
07770115580
prices
---
Give us a call now on 07770 115580 for a competitive price for fitting, installing, changing or repairing your garden lock system.
Our Locksmiths are always stocked up with a range of bedroom door locks, mechanisms and cylinders.
Our locksmiths are experts in advising you on which lock to fit on your garden door or any other internal door in your home.
We stock a large verity of garden locks, mechanisms, bolts and cylinders. We stock British Standard and high security locks like Garisson, Mul-T-lock, Banham, Ingersoll and Chubb.
Call now for a FREE no obligation quote for your garden door in London.
Lock prices start from as cheap as £20.
Standard Rim locks from £30
3 levers mortice lock from £35
5 levers British standard locks from £75
ALL OUR PRICES INCLUDES VAT and a 12 month parts warranty.
Homeowners: Please check with your home and content insurer for their requirements. Most insurers requires a British Standard lock BS3621 to be fitted on all external doors including garden door.

Choosing a locksmith
---
1. Make sure to choose a locksmith that have good reputation with plenty of positive online reviews.
2. Always keep your locksmith name and details and ask for an invoice or recite of payment. You can use the recite to claim for your parts warranty, and have your locksmith contact incase you are not happy with the quality of work and need repair or advice.
3. Choose a locksmith who is responsive to your calls and messages. The last thing you want is to wait outside in the rain for 2 hours or chase after your locksmith for quotes or warranty coverage.
Call Now! 07770115580