CALL NOW
07770115580
Digital Lock Instalation
---
Looking to get a digital lock installation on your office door?
Need a digital lock installation on a restaurant door for restricting staff access?
We provide Digital Lock Installation service to privet and commercial clients.
Digital Locks, are also known as Digilocks, Combination Locks, Codelocks, or Push Button Locks.
Many of our clients choose to install digilocks as they are locks operated by code with out the need for a key. We install Digital locks on doors or cabinets to help you restrict access for authorised people.
Digital Locks are a cost affective way to restrict staff to restricted areas. It can be installed on doors in schools, restaurants, hospitals, offices and even at home. Having a digital lock meaning that you can always change the combination without the need to replace the lock and duplicate extra keys for your employees or staff members.
Call Us to get a competitive quote for digital lock installation in any London Postcode today. Our locksmith always do a clean, precise and professional job. They leave the site clean and tidy behind them with no hazardous bits.
Why should you consider a digital Lock Installation?
---
We get many requests from our clients, in shops, offices, pubs, bars and restaurants. They mainly wish to use digital locks as you can restrict certain doors or room from general public or employees.
Our suggestion is to install a Digital Locks as it is a cost effective way to control access for specific areas of your premises. You can change the combination when you feel it is compromise, or if you change staff and want the code to be secured.
Installing digital lock also help to cut cost, and you wont need to change locks and duplicate keys whenever a problem arises a problematic employee.
07770 11 55 80
---
[email protected]
---
WHAT ARE DIGITAL LOCKS
We install digital Locks, also known as Digilocks, Codelocks, Combination Locks or Push Button Locks on cabinets and doors. We recommend using these code operated locks that to restrict access to authorised people.
You can purchase a digital locks that can be operated electronically or mechanically by push buttons.
Your locksmith will guide you how to change your digital Lock's code. You can set your code to be between 4-10 digits long.
---
digital lock Installations
Installing a digital lock may take our locksmiths between 30-90 minutes to fit and install according to the door and lock.
Our Locksmiths use specialised tools to give your door a clean and professional finish. You can choose from a large range of digital locks according to your budget and security needs.
Once your locksmith will finish the digital lock installation, they will perform a few checks. They will make sure the lock works properly and that you are happy with the quality of the lock. It is also important for us that you know how to operate the lock and change the password in the future. If you will require any further assistance when changing your code please call and we will guide you.
Prices
---
We stoke a large selection of Digital locks, Digital Push Button Door Key Pad Lock, Keyless locks and many more.
Our prices for installation starts at about £90. Installation takes about 1.5 hr.
There are four levels of locks to choose from grading on their usage:
Light,Standard, Medium and heavy duty use.
When choosing to purchase or installing a digital lock with us, it is advisable to discusses with a technician on your required usage.
We always recommend to invest in a good quality. A durable lock will withstand a heavier duty and higher turnover in time. You should consider your chosen digital lock according to the volume of uses you may need and will keep you going for a few good years.
Domestic digital lock installation
---
---
Digital Lock Installation also fit for domestic use for homes, houses flats and communal houses. You can choose to restrict some rooms, office space, basement or other parts of your home and choose who you want to be in and who out.
commercial Digital Lock Installation
---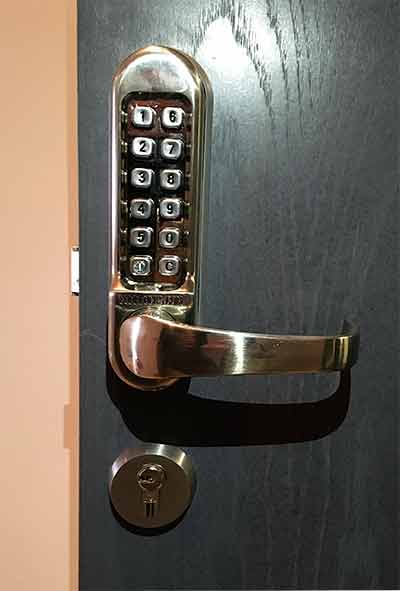 Digital Lock Installation are very common for the commercial sector. It offers many restaurants, bars, offices, estate agents, commercial premises, retail chaise, shops grate value for money as they pay only once for a digital lock installation and can change the combination as many times as they wish.
We offer competitive prices and supper fast and efficient service.
07770 11 55 80
[email protected]
Locksmith services
---
Our Locksmith London services includes:
-Emergency, Non emergency and  pre-booking locksmith services.
-Lock change ,Lock repaires, Lock installation,
Burglary repairs when the door frame or door is damaged.-Emergency locksmith service for people who are locked out of their home, business or flats. We also often get calls from customers who are locked inside an internal room because of a Cylinder, Lock  or mechanism failure.
-Emergency car unlocking offers a quick and cheap locksmith solution if you have forgot your car keys inside your car on the dashboard, seats or boot.
-Bike locksmith arrives super quickly and can cut, pick or drill any bike U-Lock, D-Lock, chain or padlock.
serves scooter, motorbikes, bicycles or bike owners. We specialise in bike lock removals 24/7.
We also offer the following services:
-Safes opening or unlocking to open any safe at your home, office or business.
-Mobile key cutting - Some of our locksmiths are equipped with key cutting machines and can cut extra keys on site saving you valuable time and money.
If you require additional keys please let us know so we can send you a Mobile key cutting locksmith.